Welcome To QC Services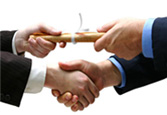 QC Services, established in 1984, is a leading consultancy organization in manufacturing management. We have a team of highly qualified professionals with vast experience working with us on a full time basis.
We undertake implementation oriented consultancy and training, resulting in manufacturing improvement and cost reduction through application of modern manufacturing techniques and employee involvement.
We have a proven track record of implementing Statistical Process Control, TQM, Vendor Quality Improvement and Self Certification, Value Adding Management, 5-S, Productivity Improvements through Methods Design, Employee Involvement through Quality Circles, Kaizen & Training and implementation of ISO-9001,14001,18001 /QS-9000 / TS-16949. We have introduced above modern concepts of Quality, Productivity and Employee Involvement in several reputed organizations.
Though QC Services offers training for these two certificates at half the cost of any other international certifications, it assures world-class faculty, study material and project guidance and a proven track record. With about 300 ASQ Certifications in last nineteen exams and over 1000 certified Black Belts to date, QC Services can give you the breakthrough in your career.
Read More